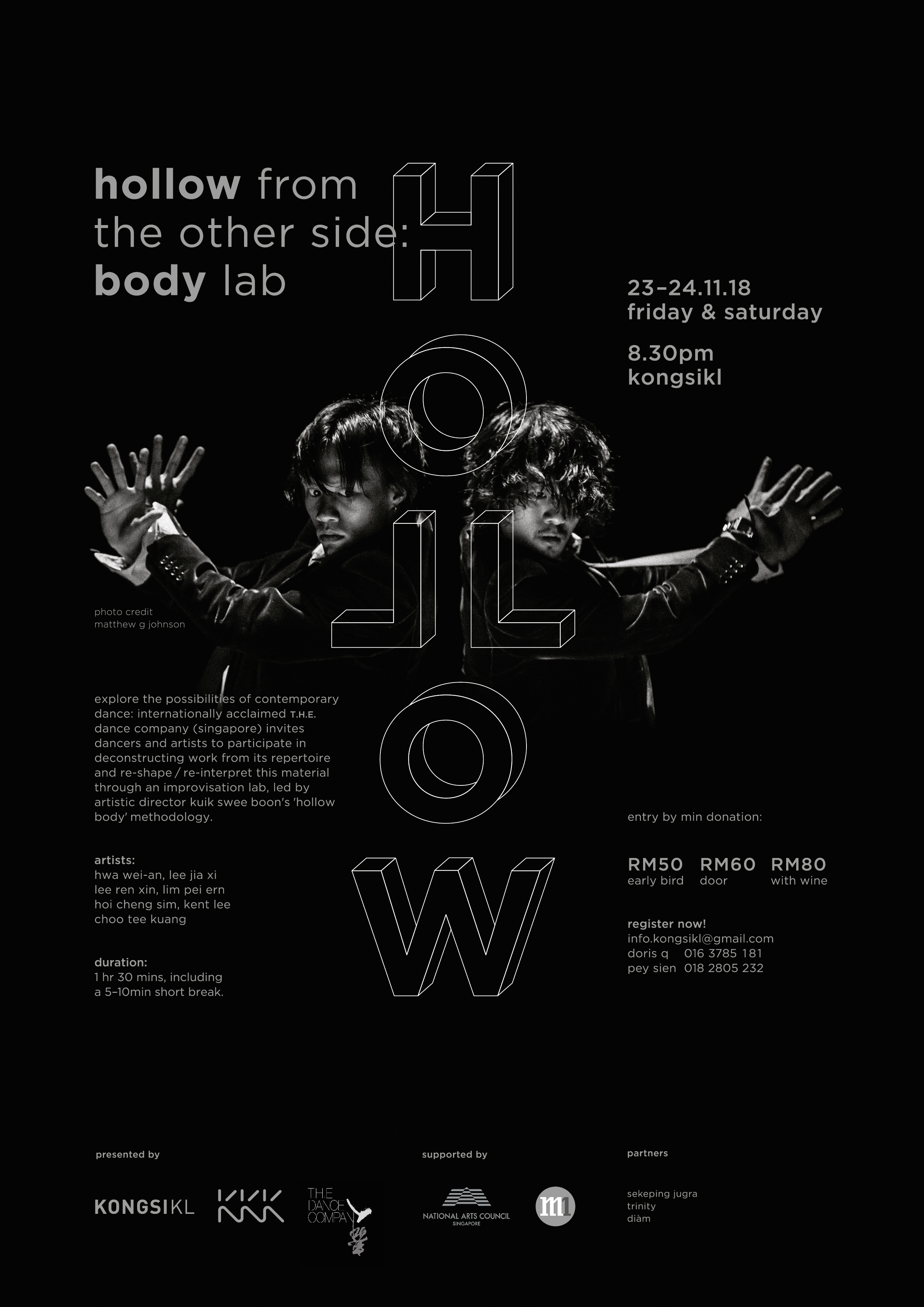 Hollow from the Other Side: Body Lab
led by T.H.E Dance Company

Present on:
Friday, 23 November 2018, 8.30pm
Saturday, 24 November 2018, 8.30pm

Entry by minimum donation:
RM50 / early bird (until 11th November)
RM60 / at the door
RM80 / with wine
Entrance enquiries:
Doris Q / 016 378 5181 (whatsapp)
Pey Sien / 018 280 5232 (whatsapp)
info.kongsikl@gmail.com

It is absolutely exciting when we learned that T.H.E Dance Company from Singapore is making Kuala Lumpur as the first stop for their SEA Tour, as an outreach to support the local dance and performance art scene of the selected SEA countries.

Celebrating the spirit of kongsi, we have invited 6 Malaysian local dancers and musician to have a cross-over with the dance group from Singapore in a 4-day improvisation lab to come up with a site specific piece echoing the concept of Hollow Body. The exciting piece that cross discipline and geographical boundary will be presented on 23/11 and 24/11, along with two other pieces from T.H.E Dance Company, 'Pure' and 'Present' .

KongsiKL believes that the process of making art is as important as the final product itself. For the curious ones who would like to see the improvisation process and dialogue between the artists from both Malaysia and Singapore, our doors are open!

Alongside the performance:

1. 'Hollow Body' improvisation lab (open for public viewing)
21-23 November 2018; 3.30pm-6.00pm
What's happening behind the scene? Curious about dancers' process? Come witness their process!
Free entry, donation is appreciated.

2. Contemporary dance technique workshop (for elementary and intermediate dancers)
24 November 2018; 3.00pm-4.30pm
Instructor: Ng Zu You
More details will be released next week!